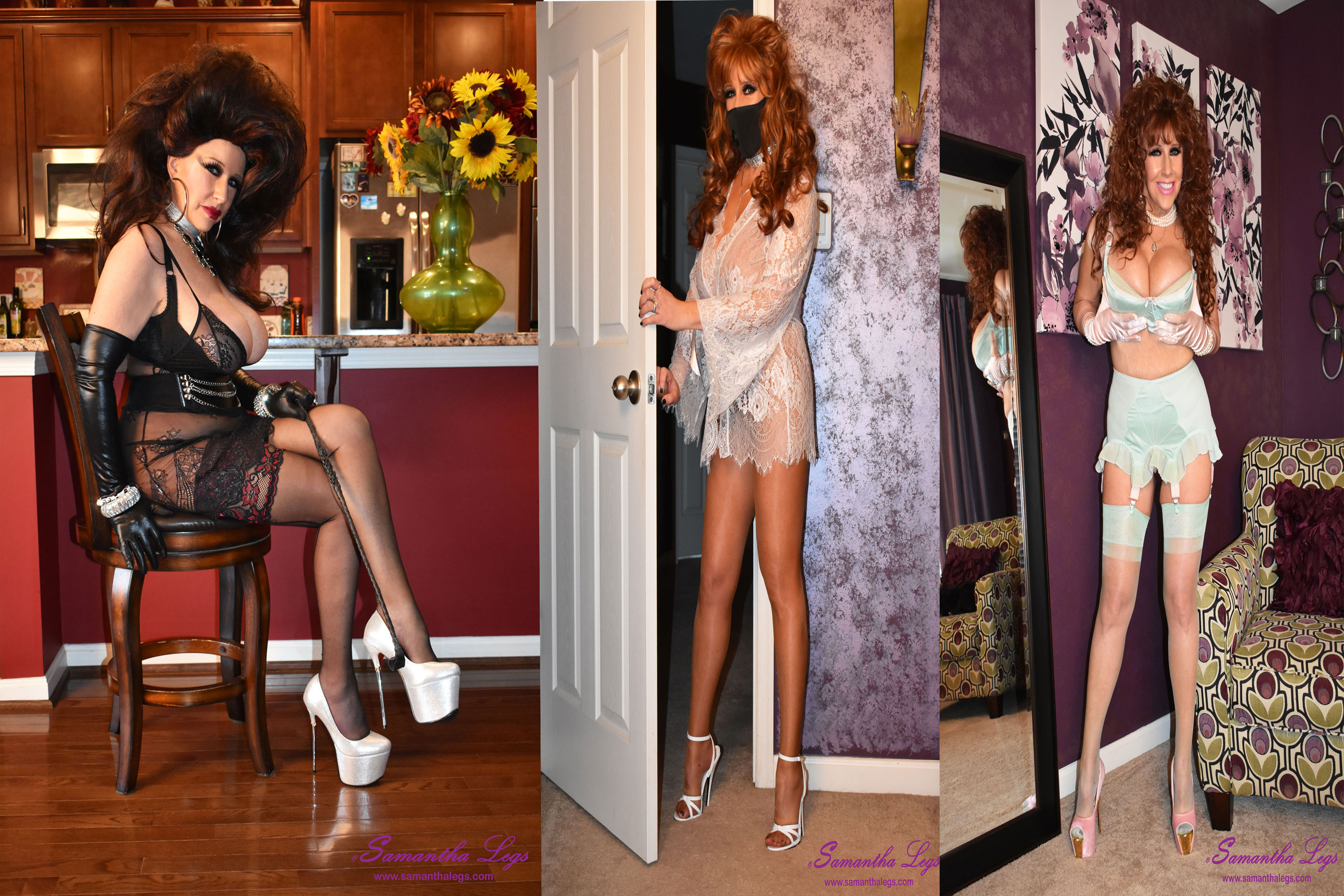 Hi Everyone!
While we're all quarantined inside, what better time than to order a custom video from me? Please see my Store for details.
Here's a glimpse of the next three updates (above).
SLUT WIFE
Hello my darling husband....do you like my outfit? I suppose you realize that I've got a date with one of My lovers....You think this outfit will make him want to fuck Me? I sure hope so, he's got a huge cock...much bigger than Your little thing. And he likes to save up his cum for a week before we meet, he usually fucks me at least 6 times....and I love EVERY thrust of his cock in My pussy and ass.
He makes Me cum like a volcano! STROKE YOUR COCK for your SLUT WIFE! OH yeah, you KNOW you're married to a WHORE...and you love it! He's picking Me up in a limo....and I guess you know what I'll be doing on the drive to the club....hmmmm? Well, he'll want Me to stroke his cock and give him a blow job on the drive there...and I can't wait because...he's HUGE...and I just LOVE sucking and stroking him. Maybe I'll get him to cum and give me a big mouthful of his seeds....which I'll swallow down like the nasty little slut wife that I am! STROKE your cock BOY!Show me how much you LIKE being married to a WHORE. And when we get to the club, I'm going to dance with him....DIRTY dance that is....rubbing his cock with My ass as we dance.....rubbing his cock with My hands...I want him HARD and THROBBING with LUST to FUCK ME...again, and again, and again!
Then I might sit him down in a dimly lit corner and do a sexy table dance for him! I might even take his cock out and fuck it while I'm dancing. I bet you'd like to watch your slut wife doing that...wouldn't you? STROKE IT! By then, I'm thinking I'll have made him cum twice, once in my mouth and once in My pussy...so it'll be time to come home...OUR home, husband...into OUR bed...that's right, I'm gonna fuck him in OUR bed....and if you're good, I might even let you watch! STROKE IT, FASTER....
You think about that husband....think about another man fucking your hot wife...and stroke your cock to show me how much you LIKE that....
So husband dearest, did you miss your slut wife while I was fucking another man just now? Could you hear My screams when he made me cum hard? Yeah, I bet you did, and I bet you were stroking and listening at the door, huh?....oh yeah...stroke it for Me now slave...Oh yeah, that's it, show Me how much it turns you on to be married to a slutty whore wife.....stroke it baby, stroke it....
Now baby, now I want YOUR cock....you want some sloppy seconds baby? Hmmmm? You want to FUCK My tight pussy now that there's 3 loads of another man's hot cum in there?
Yeah...I know you do......stroke it faster! He fucked My pussy 3 times, my ass twice and filled my mouth with hot cum once....and I swallowed every drop of his huge load! And now my little slave husband, it's YOUR turn....oh yeah..I WANT you to FUCK ME!
Yeah...FUCK ME HARD baby....FUCK My dripping pussy I want you to FEEL that other man's cum all over your cock as you fuck Me! I want you to think about how often he made Me cum...yeah! Now get up here and FUCK YOUR SLUT WIFE!
(As she's taking the dildo into herself)..."OH YEAH!!!! MMMMMM>....GIMME THAT COCK...I WANT YOUR CUM BABY!
I want your cum mixing with HIS cum....You FEEL it? Hmmm?? YOU FEEL his hot cum covering the walls of MY hot pussy? OH YEAHHHH!!!! FUCK ME! OH yeah! Slide your cock into My slutty hole! My slutty hole where LOTS and LOTS of other MEN have been before YOU!
You LOVE being married to a WHORE like ME, don't you baby? YEAH...FUCK ME! FUCK ME HARD! FUCK ME LIKE THE WHORE I AM! GIMME THAT HARD MEAT AND FILL MY PUSSY WITH YOUR HOT CUM BABY! FUCK ME! FUCK ME! OH YEAH FUCK ME! FUCK YOUR SLUT WIFE! You LOVE those sloppy seconds baby...CUM IN ME GIMME YOUR CUM...CUM IN ME NOW!!!
Latest Blogs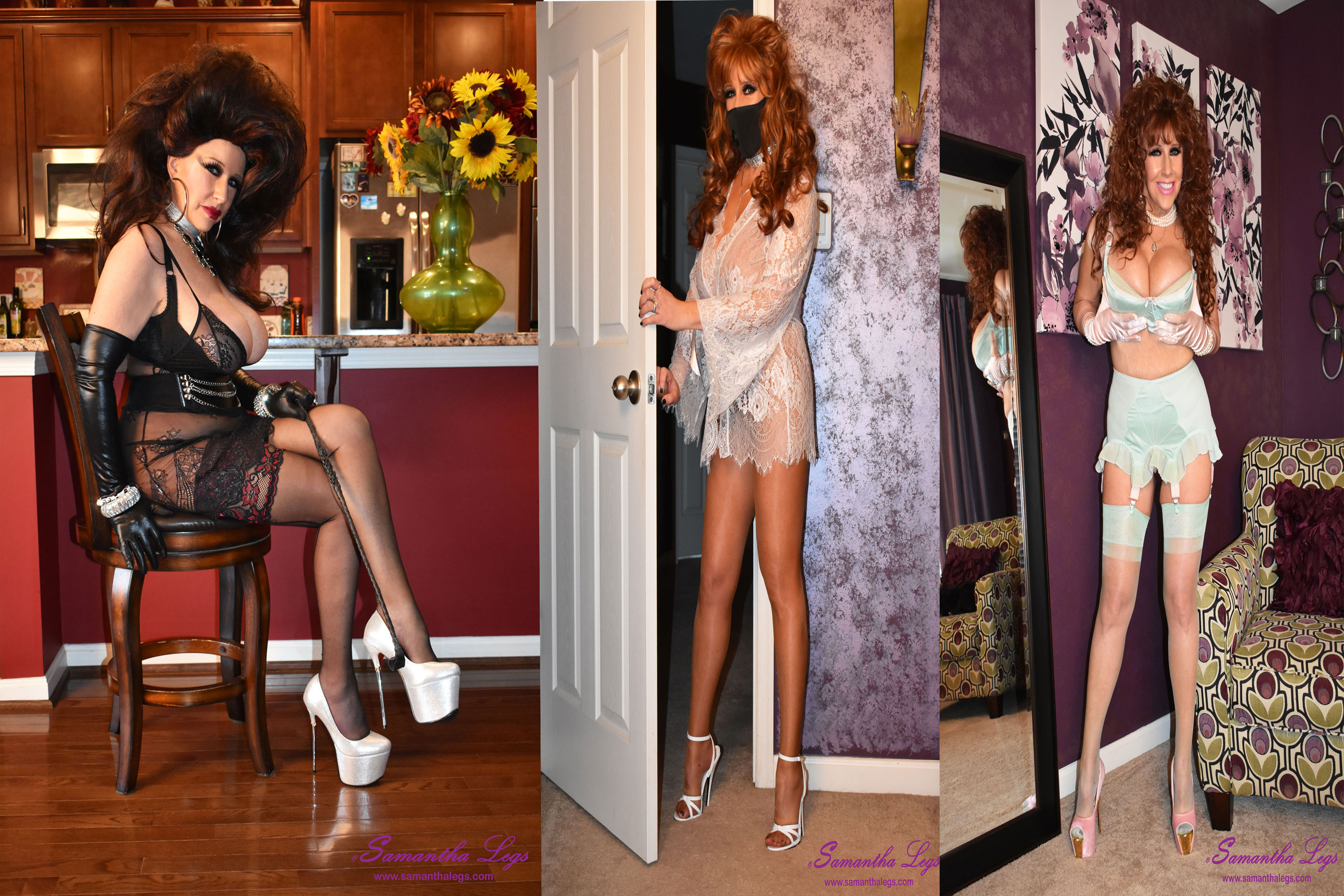 April 25, 2017
Samantha Legs Blog